Kurdistan: "Suffering Without A Nation: The Plight of Kurdish Women in the Diaspora"
Source:
Women News Network via WUNRN
Lys Anzia of the Women News Network (WNN) looks at the suffering of Kurdish women and the dramatic increase in their acts of self-destruction.
"According to a recent (9 Feb, 2008) report by BBC news - Iraq, "This semi-autonomous area (in northern Iraq) is relatively safe, the economy is flourishing and it is regarded in the West as a liberal haven in an often-conservative region. But since the fall of Saddam Hussein there has been an alarming trend – hundreds of women have died after setting themselves on fire."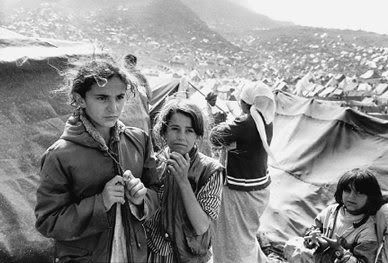 - Kurdish refugee camp in northern Iraq in the aftermath of the Gulf war - (Jasper Young/Panos Pictures)
Self-immolation, the act of suicide by fire, is an act of terrible desperation. It is also an act of protest. Something Kurdish women have known for centuries.
Suffering doubly today under the conditions of domestic inequality and societal discrimination, many Kurdish women face internal struggles without being able to access help or proper resources.
The history of Kurdish women has documented many generations of strife and renewal. Divided by the British at the end of World War I in 1918, Kurdistan and the Kurdish people faced conditions that have contributed to the loss of the Kurdish culture. Following the first World War, Kurdistan merged into the regions of Iran, Iraq, Turkey and Syria. According to a 2003 International Kurdish Women's Studies Network report, 25 to 30 million Kurds live in the Middle East. In the 1990s, after military conflicts in Iraq escalated, 1.5 to 2 million Kurds left the region.
In Syria, a 1996 Human Rights Watch report states approx 8.5 to 10 percent of the Syrian population of 13.8 million, show that "stateless" Syrian-born Kurds "make up the highest percentage of non-Arabs in the region" while they have, at the same time, been denied the right of Syrian citizenship. Under "foreign" designation, in Syria alone, Kurdish women are not allowed to marry Syrian citizens.
In addition to the sanctions found in Syria and other countries, Kurdish women are not allowed to vote, own property or obtain government jobs. Sanctions against receiving medical treatment at hospitals is also part of the ongoing Syrian discrimination against Kurdish women. Sanctions in other countries surrounding Kurdistan, have also had a history of discrimination, prohibiting even the use of all Kurdish language.
Today, as Kurds have fled from regions that have created vast discriminations and hardships for Kurdish women and their families, the Kurdish diaspora can be found stretching from nation to nation – from regions as far away as Australia to Canada.
The Kurdish diaspora involves a "complex of national, international, and transnational political-economic relations," quotes the 2007 Journal of Middle East Women's Studies.
The act of "statelessness" for Kurdish women and girls, who live outside the Kurdish governing territory in Iraq, is a constant cultural issue.
"With Kurdish women being women of a stateless nation, they have always been subsumed under the categories of the dominant state authorities. This situation appears for Kurdish women living in their homeland as well as for Kurdish migrant and refugee women," said Rotterdam, Netherlands humanitarian pediatrician, Dr. Ayten Adlim, Sept 2005. "Along with difficulties to receive appropriate medication for common diseases, Kurdish women face even more sever problems in finding treatment for disorders resulting from violence,displacement, war and torture," she continued.
The growing numbers of self-immolation cases among Kurdish women in Iraq, Iran and Azerbaijan, makes a strong statement. It is a clear indicator of the vast degree of internal stress Kurdish women are facing today as they balance struggles between domestic inequality at home and external cultural/social discrimination.
Today, more than 5 million Kurds live in Iraqi Kurdistan. More than half of the region is governed under the direction of the Kurdistan Regional Government. The rest comes under Iraqi government regulation.
"I think that women do not want to really commit suicide but they want, in fact, to make their cry for help to be heard and say that they are facing injustice," said Iranian professor, Mohlsen Janghorbani, of Isfahan University of Medical Sciences.
"The way they kill themselves is a real tragedy," said Chilhura Hardi, manager of the women's radio station – Radio Khatuzeen – in the northern Kurdistan controlled region of Iraq.
The situation of discrimination for Kurdish women in Europe is also a pressing indicator of stress among Kurdish women.
"A high number of Kurdish migrant and refugee women in Europe suffer from psychological and physical health problems created by the experiences of violence, war and migration; often leading to Post Traumatic Stress Disorders (PTSD)," said pediatrician, Dr. Ayten Adlim, in 2005.
"Being isolated and a 'foreigner' many women cannot confide to anybody what they have been living through," added Dr. Adlim, on conditions for Kurdish women living in the Netherlands. "This especially appears for women who are in fear of sanctions either by state authorities or by their own community. The permanent fear of deportation and uncertainty even worsen the situation. Thousands of Kurds being traumatized due to war and torture still have not been recognized as political asylum seekers. Just to give an example: A mother with two children, whose husband was killed by so-called 'unknown forces' while she was raped by Turkish soldiers, now has been waiting for 10 years for the Dutch authority's decision on her asylum application."
Even under conditions of unending internal and external oppression, while simultaneously embracing the modern and ancient world today, many Kurdish women have attempted to hold on to their own cultural history and memory.
Kurdish women do have a history of pride and accomplishment in social responsibility. As far back as 1919, the Kurdish women's organization, "Society for the Advancement of Kurdish Women," was formed in exile in Istanbul by a group of women who had once held positions of authority in Kurdish aristocracy. This organization, while working under harsh circumstances, helped rescue many Kurdish widows and children from the effects of the ravages of World War I. They aimed closely to protect women and children from the forced migrations and Kurdish massacres of post world war.
In 1999, in a call to action to help women in Iraq who faced various threats from domestic violence to "honour killings," the Nawa Center for Women in Distress opened its shelter in Iraqi Kurdistan. Its mission is to help women who are suffering under severe psychological stress, following years of domestic violence and oppression.
Founded in June 2004, the KWRW – Kurdish Women's Rights Watch, a network of Kurdish and non-Kurdish women and men, including community activists, academics, lawyers as well as legal professionals and journalists, works with human rights and women's rights organizations inside and outside of Kurdistan.
The Kurdistan Women Union – KWU, located in the northern region of Iraq, has also been closely involved in the advancement of Kurdish women. Through KWU promotion of programs, Kurdish women have become more active in Kurdish parliamentary government. The number of Kurdish female lawyers is also on the rise.
By: Lys Anzia Women News Network (WNN)
14 February 2008
Sources for this article include Kurdistan Women Union – KWU, The Middle East Intelligence Bulletin, BBC News, Human Rights Watch, International Kurdish Women's Studies Network, "The Solitude of the Stateless: Kurdish Women at the Margins of Feminist Knowledge" by Shahrzad Mojab, Radio Free Europe, Kurdish Women's Rights Watch, Journal of Middle East Women's Studies 2007 and International Free Women's Foundation – Netherlands.