Iran detains UK citizen over ban on women watching sports alongside men
Earlier this summer, Ghoncheh Ghavami stood outside Tehran's majestic Azadi (freedom) stadium, wearing a white scarf and holding up a placard.
With Hassan Rouhani promising a more moderate stance in Iran, she wanted to enter the stadium alongside male fans, hoping that the Islamic republic's ban on women attending big sporting events would finally be over.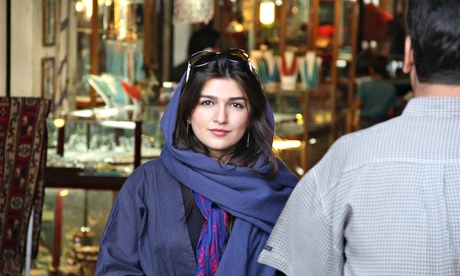 Ghoncheh Ghavami, a 25-year-old British-Iranian woman, was kept in solitary confinement for more than 40 days after she was detained outside the Azadi stadium.
As Iran's volleyball team hosted Italy later that Friday, Ghavami, 25 – who holds dual British and Iranian citizenship – was arrested with a number of other female fans who were peacefully demanding to be allowed into the match. She was released after several hours in detention but re-arrested in late June when she went back to collect her mobile phone, which had been confiscated after the protest. Nearly three months on, she remains in jail.
Amnesty International says she is being held in Tehran's notorious Evin prison, where she was kept in solitary confinement for more than 40 days before being moved to a shared cell.
"She is a prisoner of conscience, arrested solely for taking part in a peaceful protest against the ban on women attending volleyball world league matches in Tehran's Azadi stadium," said Amnesty.
Iran does not recognise dual citizenship and treats all those with a second nationality solely as Iranian, denying them access to consular assistance. The British Foreign Office is pursuing her release but has limited influence.
According to Amnesty, Ghavami has said that while she was kept in solitary confinement, "the interrogators put her under psychological pressure, threatening to move her to Gharchak prison in the county of Varamin, Tehran province, where prisoners convicted of serious criminal offences are held in dismal conditions".
Shiva Nazar Ahari, a leading rights activist, was among the women protesting alongside Ghavami that day. She has written on her Facebook page that their demand simply was to be allowed to enter the stadium.
"We wanted to go to the stadium together. We wanted to go sit on those chairs to scream and cheer for our national team," she wrote.
Ghavami's lawyer, Mahmoud Alizadeh Tabatabaee, told the International Campaign for Human Rights in Iran (ICHRI), an independent US-based rights group: "Unfortunately, I have not yet been allowed to visit with my client, and because she is still in the interrogation stage and no indictment has been issued, I don't know her exact charges.
"I hope, according to the discussions I have had, that Ms Ghavami is released on bail over the next few days. I am optimistic."
A friend of Ghavami told the Guardian that her detention in Evin prison had recently been extended but it was not clear how much longer she could be held under Iranian law without being officially charged. Iranian judicial authorities repeatedly disregard their own legal system, holding inmates without putting them on trial.
Local media has covered Ghavami's detention, based on what has been reported outside Iran, but there is little information on her situation.
Bultan News, a website close to Iranian hardliners, said in a report with a familiar accusatory tone that she had been used by "the west's espionage services" to spread chaos in Iran's sociopolitical situation. It did not elaborate whether that view was solely held by the website or was also shared by the authorities holding Ghavami, a law graduate from London University's School of Oriental and African Studies.
Other Iranian women have also campaigned for female fans to be allowed to watch matches in stadiums. In June 2011, an Iranian photographer, Maryam Majd, was held by officials before boarding a flight from Iran at the airport for campaigning to allow women to enter stadiums alongside their countrymen.
Iran is particularly sensitive about the activities of dual citizens in the country and has arrested a number of them in recent years, including Amir Hekmati, an Iranian-American former US marine, and Jason Rezaian, an Iranian-American reporter for the Washington Post.
In May, it also emerged that another British-Iranian woman, Roya Saberinejad Nobakht, 47, from Stockport, was jailed for her comments she wrote on Facebook and sentenced to 20 years.
These arrests are believed to have been carried out by Iran's judicial and security apparatus, which operate independently of Rouhani's government. So far, however, the president has failed to act or speak out about their plight.
Submitted on Mon, 09/22/2014 - 12:19