A Bad Year for Yara Sallam in Egypt's Republic of Fear
06/17/2015
Brian Dooley, Director, Human Rights First's Human Rights Defenders Program
Sunday June 21 will mark one year since Egyptian human rights defender Yara Sallam and 22 others were arrested in the Cairo district of Heliopolis. She's been in jail since then, along with six other women who were arrested at the same time in connection with a peaceful protest. Sanaa Seif, sister of prominent jailed activist Alaa Abdel Fattah, is one of these six women. They have all been sentenced to two years in prison.
Within weeks of President Sisi's inauguration, Sallam and the others were arrested -- just one group of many dissenters who have been targeted by the administration. Sallam's imprisonment has raised her international profile and that of the unjust 2013 Protest Law which was used to convict her and the others. Already a prominent civil society figure in the Middle East (in 2013 she was awarded the North Africa Shield, a human rights defender prize), she is now a 2015 finalist for the Frontline Defenders Human Rights Defender Award.
Sallam and the women arrested with her, who are currently being kept in Qanater Prison, are planning to mark the anniversary of their detention with a science trivia quiz. They've been cramming for weeks now, passing around their shared science book written in English.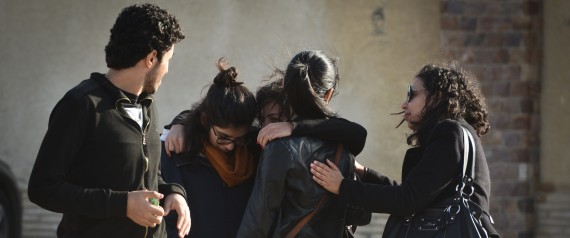 Egypt's human rights situation, already in crisis 12 months ago, has continued to spiral downwards as government attacks on civil society have intensified. Leading human rights defenders and civil society leaders live in constant fear of being targeted; many have left the country. Last week the government referred the Cairo Institute for Human Rights Studies (CIHRS), one of the region's longest established and prestigious non-governmental organizations, for investigation.
CIHRS Director Bahey eldin Hassan told the European parliament two weeks ago that Egypt had become "a republic of fear, in which politics is absent." Parliamentary elections have been postponed more than once, and there is currently no date set for them. Hassan told MEPs that the Egyptian government has struck hard at all parties and peaceful actors -- secular or Islamic -- using the "war on terror" to attack basic rights.
Egyptian courts now routinely hand out death sentences -- about 1,500 by some estimates thus far. Leading human rights lawyer Negad Borai was questioned several times in the last few weeks by authorities after helping to draw up a draft law against torture.
"As the government exploits terrorism and its confrontation with terrorist groups to justify the crackdown on liberties, these practices inevitably nourish these groups and enable them to attract more sympathizers and followers," says Hassan.
The consensus among the human rights community in Egypt is that things are now significantly worse than they were under the dictatorship of President Mubarak. "For the first time since the birth of the Egyptian rights movement three decades ago, staff working at civil society organizations have been the focus of politicized investigations in connection to foreign funding and smear campaigns; a number of them have been banned from travel abroad, and some have received death threats or been evicted from their homes," says Hassan.
Despite the U.S. government's rhetoric to stand with civil society around the world, itsresponse to this assault on Egyptian NGOs and activists has been incoherent and weak. Last week, the House Appropriations Committee approved a bill removing human rights conditions on foreign assistance to Egypt. The U.S. provides $1.5 billion in annual aid to Egypt, including $1.3 billion in military assistance.
None of this helps Egypt, but instead hurts those in the country trying to find a way out of the current catastrophe. Yara and the others with her shouldn't be in jail. They should be helping to build a better future for the country -- not passing their days making bookmarks, perfecting their origami skills, or preparing for trivia quizzes.